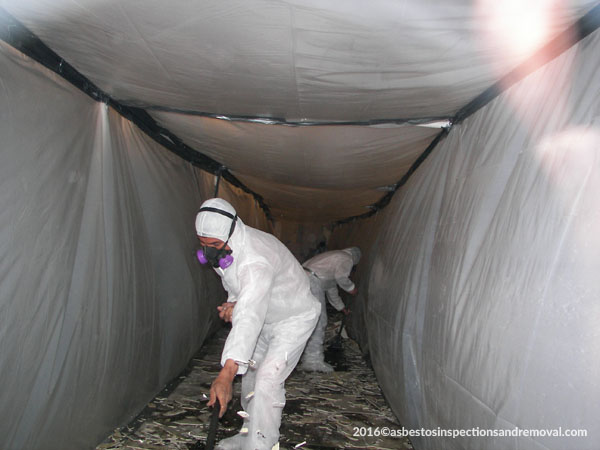 Asbestos removal may be required after performing an asbestos inspection.   #1 Clean Air Environmental, LLC can conduct complete line of asbestos services.
Asbestos Removal Services
Our prompt and efficient asbestos commercial assistance ensures to get any asbestos or mold removal job done. In the process of removal, it is safe to relocate your family or employees to a different building so that no one receives any direct exposure. We will seal off the premises that has the asbestos in order to prevent any further contamination in other areas. During the asbestos removal process, we will use only the highest quality products and machines that are specifically used for these purposes.
From beginning to end. #1 Clean Air Environmental will perform your asbestos removal activities with state of the art technology and in accordance with state and federal law.
It is recommended by #1 CAE that residents vacate the premises when asbestos is being removed from the home.  Asbestos jobs performed in an occupied dwelling that will not be involved in demolition will undergo an aggressive air clearance prior to re-entry.  Air Clearances are also required in demolition jobs but are not as aggressive usually.  All supervisors and workers employed by #1 CAE are nationally and state certified.  Although we are located in the southeast, we are certifiable throughout the U.S.
Asbestos Detection and Testing
If you are planning a construction or demolition project, have our diligent inspectors perform an asbestos detection before beginning. This way, if there is any asbestos within your walls, we will be able to remove it before any of your workers are accidentally, directly exposed to it.
If you are seeking asbestos consulting, testing, or removal, contact #1 Clean Air Environmental in Myrtle Beach, SC for thorough and affordable services.