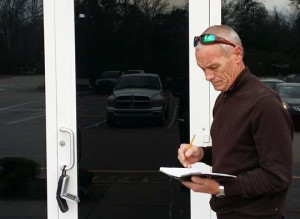 Asbestos Inspections may be needed in the work or home environments as many people may be exposed to life threatening hazards.  Allow us to detect any asbestos containing building materials (ACBM.)
Performing Asbestos Inspections
#1 Clean Air Environmental wants to help prevent these hazards from happening to you, your employees, or your family. With thorough asbestos inspections, our skilled asbestos detection staff will be able to identify any asbestos remnants in your work or home. If asbestos containing materials are found then we will assist in any permits or asbestos removal services that will be needed.
Presence of Asbestos
Many construction projects obtain a vast amount of asbestos in their structures. We know now that asbestos in a building unhealthy and now violates public health codes. If you are moving into a new building or you would like to check your current work space, our asbestos consulting firm will be able to identify if these fibers are in your building.
Asbestos Containing Materials (ACM) are divided into three groups:
Surfacing materials: Drywall compound, wall finishes, plaster, spray materials (popcorn ceilings,) and troweled on wall textures.
Thermal System Insulation (TSI) : Includes but not limited to pipe and boiler insulation.
Miscellaneous: Materials that include but not limited to flooring, roofing, mastic's, gaskets, cementicious material, caulking, ceiling tiles, fire doors, wallboard, and flexible duct connections.
Why Choose Us
Dedication to Customer Satisfaction
Dedication to Customer Satisfaction
Keep your work and home safe for you and those around you, partake in our asbestos testing and mold removal service today! #1 Clean Air Environmental proudly serves the residents in Myrtle Beach, SC.